For the Second time in a row Burna Boy emerges winner of the BET Best International Act 2020 Awards. Beating the likes of U.K acts; Dave and Stormzy who where big names the same category.
(Burna Boy Wins BET Awards 2020)…. The BET 2020 Awards was held on the 28th of June 2020 virtually at L.A, Los Angeles, US which went Live in the early hours of Monday (29th, June around 2am) in Nigeria. Hosted by Amada Seales this year's virtual award show saw performance from Summer Walker, Alicia Keys, Dababy, Jennifer Hudson, Lil Wanye, Roddy Ricch and other A list artist. Also with a special tribute performance for Kobe Bryant delivered by Lil Wanye.
Nigerians main focus of the BET Awards 2020 were of 2 categories; The 'Best International Act' which had Burna Boy on it and 'The Best New International Act' that had Rema nominated for Viewers choice. While Rema lost to Sha Sha from Zimbabwe, Burna Boy clinched first in his own category and brought home the BET Awards 20.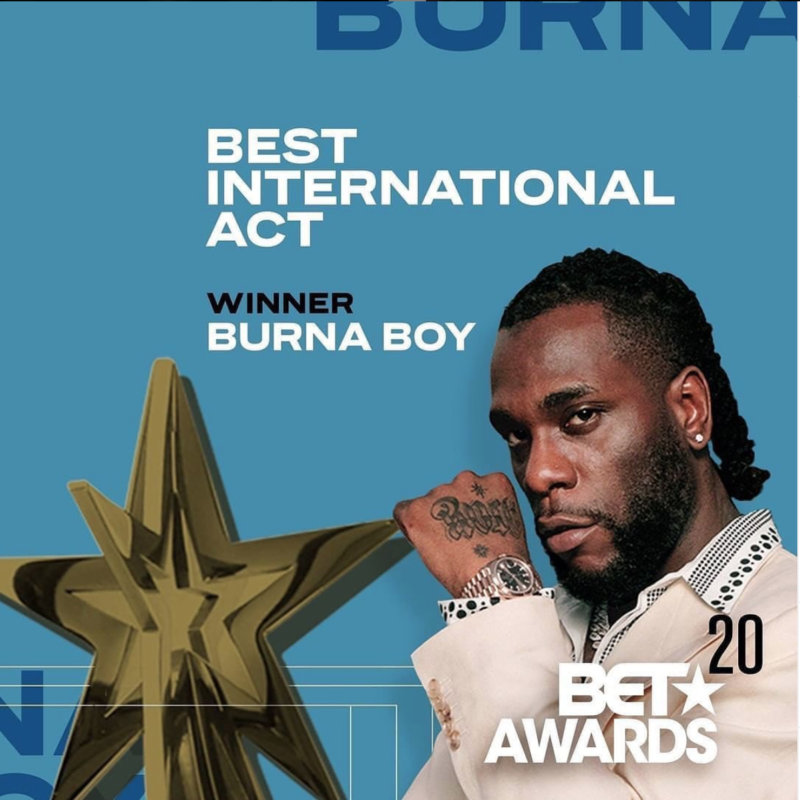 The Nigerian singer, Damini Ebunoluwa Ogulu Rex popularly known as Burna Boy aka OluwaBurna was nominated alongside United Kingdom buzzing acts Dave and Stormzy, France finest singers; Ninho and S.Pri, DRC rave act- Innoss'B with South African's Sho Madjozi for the BET 2020 Awards and claimed the titled once again. In 2019 he won the same category defeating Mr Eazi, AKA, Dave, Giggs, Dosseh and Aya Nakaruma. This made it a two time in a row wins for the African Giant.
In his acceptance speech which was done virtually he pointed out that now is the time for Africa to lead and dominate; "Second time and I appreciate it. I will like to use this opportunity to say that sometime around 1835, there was admission to turn the nation of Africa into a dominated nation. Now is the time to return and go back to the royalty that we were because in order for black lives to matter, Africa must matter." … Watch his Acceptance speech below



View this post on Instagram



Defeating the likes of Dave and Stormzy who also had hit songs on the international shows Burna is truly a Giant. More Wins OluwaBurna…. Nigeria and Africa celebrates your talent.